BRUSSELS/SPANKEREN – Legendre Conveyors en Twe-O are teaming up. Together, they're going to make the Legendre motto – 'We Convey – You Relax' – ring out loud and true across the Dutch market.
In concrete terms: what is changing?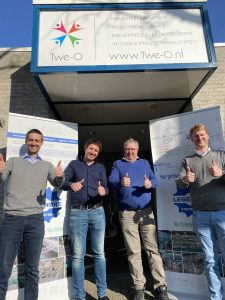 Twe-O is taking on the client-prospecting and sales, as well as support and servicing. They have extensive knowledge and expertise in these areas. Legendre Conveyors will be responsible for the technical concepts, the manufacture and installation of transport systems and control elements. Both partners are now looking eagerly at this exciting collaboration. The goal is clear: go to all lengths to ensure the client will not have to worry about the design, assembly, installation, start-up or maintenance of their internal transport systems.
Lorenzo and Frank Kleinreesink: 'This opportunity allows us to raise our expertise and services to a higher level. Working together with Legendre means that we can count on an extra 70 years (!) of experience, primarily in the drinks industry. Our range will be expanded to include their high-quality transport systems, well-known for their high production capacity.'
Mathieu and Olivier Legendre: 'By combining our strengths with those of the enthusiastic and accomplished Twe-O team, we will be giving our clients in the Netherlands optimal support, for both investment projects and servicing. This collaboration will deliver important growth opportunities for us both. We want to become a strong presence on the Dutch market when it comes to internal transport of bottles and packages.'
Do you have requests for the Dutch market? Don't hesitate to contact Frank Kleinreesink: frank@twe-o.nl